Nora Corbett has a hold on me. Her designs are amazing and I just cannot stay away from them.
So she released Persephone some weeks (months?) ago, and I just had to order the chart immediately. I had a bit of extra money so I got the embellishment pack as well. I already picked a wonderful hand dyed fabric by Stephanie and bought the DMC floss required. No hand dyed floss yet, as the fabric I chose looks very different from the original. Therefore I will stitch the lady before I decide what colours I should use for the background pattern. Long story short, I have her kitted up and she is patiently waiting her turn.
Then they released Red, which not only looks amazing, but she also reminds me of Ruby from the TV series Once Upon A Time. I love that series and Ruby is one of my favourite characters.
(SPOILERS!)
You may already know that I have a thing for werewolves. So for me Red has an extra special meaning. I don't even have the chart yet, but I bought a piece of 32ct grey marble linen and most of the floss. That is how nuts I am for this chart.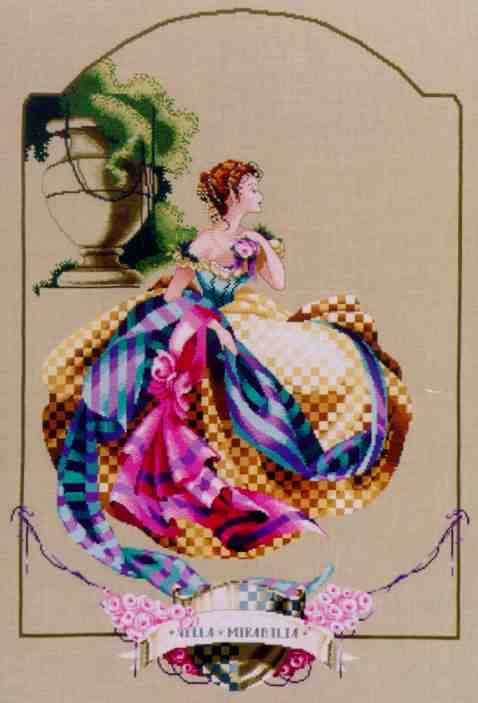 It was then that I realized that as much as I like finishes and try to make myself stitch smaller designs, my true calling is Mirabilia, as these designs give me the most joy, and I feel happier working on them then I feel finishing anything else. So, after years of futile efforts of not making more WIPs but concentrating on finishes, I finally embraced my nuts-for-Miras side and started working on Villa Mirabilia. It is my absolute favourite design and had it kitted up for years. I didn't start on it because its size scared me and I kind of assumed it will become a UFO. But now I had enough of waiting. I work on VM and every single stitch makes me happy. And, at the end of the day, that is all that matters.